SafeZone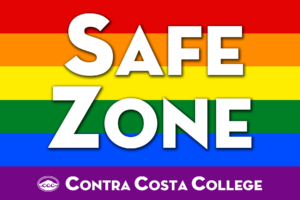 SafeZone is a faculty and staff group dedicated to creating a supportive environment for the LGBTQQI community at Contra Costa College. When you encounter the SafeZone logo on campus, know that you are welcome to express yourself freely and in confidence.
LGBTQQI Resources 
On campus
SafeZone – faculty & staff group. For more information, please contact Carlos-Manuel Chavarria.
Alphabe+ Club – student group. For more information, please contact Joel Nickelson-Shanks in the Student Life Office.
Counseling – CCC counselors are ready and available to help discuss personal matters. Make an appointment online.
Wellness Program – Provided by John F. Kennedy University, the program offers therapists to CCC students. For information, appointments, & referrals, please call 510-215-3960, or email wellness@contracosta.edu.
Gender Neutral Restrooms – Located on the second floors of the General Education Building, Gym Annex, and Library; and on the first floor of the Early Learning Center.
National
Health
LGBT National Hotline: 1-888-843-4564