SafeZone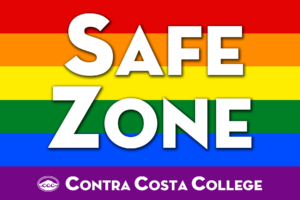 SafeZone is a faculty and staff group dedicated to creating a supportive environment for the LGBTQ+ community at Contra Costa College. When you encounter the SafeZone logo on campus, know that you are welcome to express yourself freely and in confidence.
LGBTQ+ Resources 
On campus
SafeZone – faculty & staff group. For more information, please contact Carlos-Manuel Chavarria.
Alphabe+ Club – student group. For more information, please contact Charles Ramirez in the Student Life Office.
Counseling – CCC counselors are ready and available to help discuss personal matters. Make an appointment online.
Wellness Program – Provided by John F. Kennedy University, the program offers therapists to CCC students. For information, appointments, & referrals, please call 510-215-3960, or email wellness@contracosta.edu.
Gender Neutral Restrooms – Located on the second floors of the General Education Building, Gym Annex, and Library; and on the first floor of the Early Learning Center.
National
Health
LGBT National Hotline: 1-888-843-4564