Draw strength in community, even if its virtual right now
College Events
Strategic plan – set the course for our college future! The planning committee has been working hard to be sure our campus voice is authentically included in our 2020-2025 strategic plan.  I hope you will be part of the continuation of the energy generated at All College Day at this final community event, as we make sure we can identify ourselves and our work in the document that will guide college decisions for the next 5 years. Friday April 24, 1-2:30PM (zoom link) Please take this very tiny survey to help make the event run smoothly.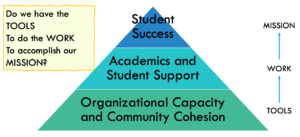 May the 4th be with you!  The ASC hopes all faculty can join this all senate meeting from 2:15-4pm on May 4.  We recognize that everyone feels underwater and exhausted, and we think it would be healthy to poke our heads out and have some fun!  Let's come together, celebrate ourselves and look forward to next fall with a sense of happy anticipation.  We promise that this 1.5 hour event will be worth your time!   Look out for our calendar invite and please say yes!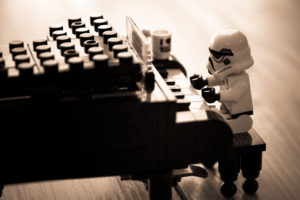 Faculty Issues
Fall 2020 Schedule: Like other education institutions around the Bay Area, we have to seriously consider what is the best schedule to plan for Fall 2020.  I've revisited the resolutions and advice about dealing with spring and summer that the ASC developed on April 6, and I think the principles expressed there are an excellent guide.  Please take a moment to re-visit these ideas (I described them in last week's blog) and consider whether you think this logic should be used to tackle the challenge of an uncertain fall.  The ASC can always call a special meeting to discuss this further, so contact your representatives if you want us to take up the issue again.  
The U.S. Department of Education has released a Notice of Proposed Rulemaking regarding Distance Education.  The Secretary (Betsy DeVoss) proposes to amend the general, establishing eligibility, maintaining eligibility, and losing eligibility sections of the Institutional Eligibility regulations issued under the Higher Education Act of 1965, as amended (HEA), related to distance education and innovation. In addition, the Secretary proposes to amend the Student Assistance General Provisions regulations issued under the HEA. more information regarding the proposed regulatory action can be found here. Formal comments may be submitted here, and must be received by May 4, 2020. 
ASCCC Events
Our statewide academic senate is a fantastic source of support and ideas.  The COVID-19 situation is no different!  Please take advantage of the resources available here.  I'd like to highlight two in particular:
Students!
I wanted to end with a small reflection about students. I've been very sad thinking about COVID-19's impact on their education. What an abrupt shift to have to make during this one time in life where a student should be focused on personal growth and vision for their future. I know we are all feeling this for our students, and this heaviness adds to the challenge of the moment in our own work.
While I've missed seeing the typical number of students in a full load of courses during this year, I have really appreciated working with the amazing student leaders on campus.  In particular, the ASU President, Vice President and Governing Board Student trustee (Preston Akubuo-Onwuemeka, Alfredo Angulo, and Shreejal Lutiel) have shared so much insight and perspective with me this year.  I don't think they realize how much they've helped me grow as a person and in my career.  I'm very grateful to have worked with them. ASU representatives have been present in all of the many participatory governance committee meetings I've attended this year (and it's a LOT).  Their willingness to speak up and share their perspectives have improved every decision made.  I'm so glad to have had the privilege of seeing this different aspect of student experience at CCC! I'm really looking forward to meeting the new leaders next year. 
Graduation is going to be virtual this year, and we won't be there in our regalia to wish our students well.  I'm sad about this.  At our May 4th event, I plan to record an all-faculty sendoff for this year's CCC graduates, so please think about attending if only to be part of that message for our students!