Over and Out!
We have a part time representative position on the Academic Senate Council!
Thank you so much to everyone who voted to change the ASC constitution and by-laws! While much of the changes were 'clean up', I'm so excited that we now have a part-time representative on the ASC. Thank you to Amanda Choi (former part-time librarian here at CCC, now full-time at DVC) for starting us down this road, and for Marisol Cantu for her dedicated efforts to help bring this to the official finish line! The new seat comes with an election process, which I will leave for Gabriela Segade to tackle as she takes over as ASC President July 1.
I believe we will be asked to vote on a few more ASC by-laws changes in the fall semester. Ideas are moving forward, but the exact changes were not ready for prime-time (and formal voting!) by the end of this spring semester.
Get your grades in.
Let's show Dr Rogers how awesome we are in meeting our grading deadlines. 😉 Get those grades in on time!
Syllabus checklist
The ASC hopes to provide a comprehensive syllabus guidance document to you early next fall. For now, please use this checklist to make sure your syllabus covers all of the required bases. You can also use the DE committee's welcome letter template for some good ideas about what to include. You can use eLumen to access the current Course Outline of Record (COR) for each course you are teaching. Here is a quick video I made showing how to grab a COR. (note: eLumen starting point is ccc.elumenapp.com)
Look forward to an equity-focused resource that will help us all engage our students this coming fall semester!
Committee work in the fall semester
As of today, 72% of full-time faculty are on a campus committee for the Fall semester. This is fantastic! Of the remaining ~30% of faculty, about 1/2 are new or attend a committee as part of their release time. The other 1/2 of those full-time faculty not on a campus wide committee just don't attend one. It makes me sad that we are missing out on those voices, and that those folks are missing out on hearing the wonderful sharing of ideas that occurs when folks from across campus come together in a committee. I'm happy to note that there are four part-time faculty serving on campus-wide committees. I hope more can be done going forward to compensate part-time folks for their contribution to our campus conversations and decision-making.
You can always attend any committee. There is a new one this fall. The OER/ZTC committee has been an ad-hoc working group, and will be starting the fall semester as a regularly meeting sub-committee of the ASC. Even though the by-laws don't reflect it just yet (you still have to vote!), the ASC recommends that this committee begin meeting this fall.
These committees still need faculty voting members
Academic Senate Council CTE seat 1st and 3rd Monday 2:15-4pm 
Curriculum Instruction Committee SES seat #2 2nd and 4th Monday 2:15-4pm 
Planning Committee seat #3 1st Friday of the month, 12:30-2:30 p.m. 
Planning Committee seat #4 1st Friday of the month, 12:30-2:30 p.m. 
DE Committee ACCE seat #3 2nd Friday of the month, 10:00 a.m.-12:00 p.m. 
DE Committee SES seat #2 2nd Friday of the month, 10:00 a.m.-12:00 p.m. 
DE Committee SES seat #3 2nd Friday of the month, 10:00 a.m.-12:00 p.m. 
Professional Development SES seat #2 4th Monday of the month, 2:30-4:00 p.m. 
Marketing and Recruitment seat #1  Contact Joel Nickelson-Shanks or Larry Womack 
Marketing and Recruitment seat #2  Contact Joel Nickelson-Shanks or Larry Womack
OER/ZTC committee many seats – this one is new! Contact Maritez Apigo
Here are all of the committees
College Council 2nd Thursday of the month, 2-4 p.m
Budget Committee 3rd Wednesday of the month, 2-3 p.m
Operations Committee 2nd & 4th Wednesday of the month, 2:30-3:30 p.m.
Planning Committee 1st Friday of the month, 12:30-2:30 p.m.
Student Success 1st Thursday of the month, 2-4 p.m.
Safety 1st Thursday of the month, 8:00-9:00 a.m.
Sustainability 1st Thursday of the month, 7:00-8:00 a.m.
Marketing and Recruitment Contact Joel Nickelson-Shanks or Larry Womack
Professional Development 4th Monday of the month, 2:30-4:00 p.m.
SLO/AUO Committee 3rd Wednesday of the month, 3:00-4:00 p.m.
Racial and Social Justice 3rd Tuesday of the month, 3:00-5:00 p.m.
Academic Senate Council 1st and 3rd Monday of the month 2:15-4pm
Curriculum Instruction Committee 2nd and 4th Monday of the month, 2:15-4:00 p.m.
Distance Education Committee 2nd Friday of the month, 10:00 a.m.-12:00 p.m.
OER/ZTC Committee contact Maritez Apigo for information
Guided Pathways 3 workgroups that meet at different times – contact Sarah Boland-Drain for information
EEO Committee contact Tim Harrison for information
Catalog Committee contact Tim Gleason for information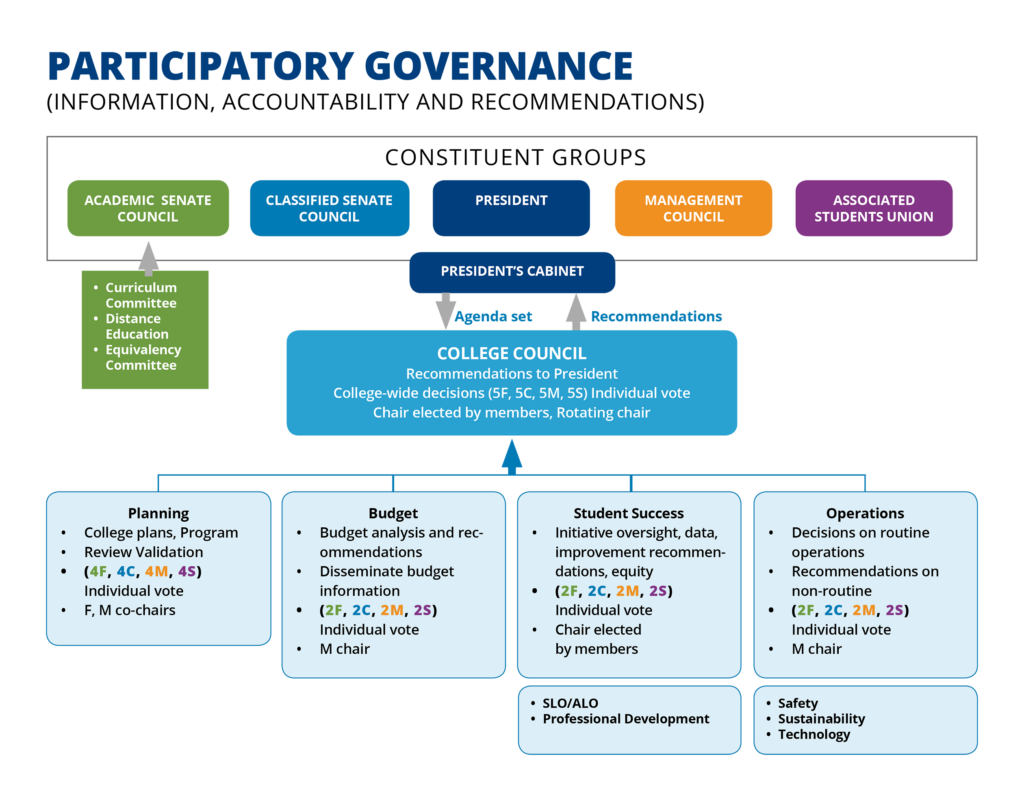 That's all folks!
I've really enjoyed my time as ASC President. It's been a wild ride! I'm ready to get back to the classroom though.
In Summer of 2019 as I started in this role, I hobbled up to the 4CD governing board podium on crutches (I'd just broken my hip a couple of weeks before) to talk about the impact of us not having a college president. Soon after, I made the good decision (based on the wisdom of the Classified senate president) to call an ASC meeting on all college day to discuss forming a hiring committee for the interim president position. I listened, and from what I heard our wonderful faculty colleagues say, created a resolution which ultimately united our campus community around an inclusive and thoughtful process which brought us Dr. Bell. I really enjoyed working with Brandy Gibson and Mayra Padilla to facilitate a campus conversation to help inform that process.
COVID-19. Enough said
Summer of 2020 and beyond. I feel very thankful to have had this role during a transformative year in our collective understanding of racial justice, social justice, and equity. I have learned so much from my colleagues here at CCC and also from statewide interactions. I am very lucky to have had this time. I know I will be a better teacher because of it!
New chancellor. It seems like he's been here a long time, but Dr Reece is brand new to our district. He was hired in November, and has hit the ground running with his $10M Enrollment Recovery Plan and the task of hiring our new permanent president. I've enjoyed my conversations with him, and appreciate his commitment to making sure a fantastic college education is available and accessible for everyone in the communities we serve.
New vice president(s). There is a lot to take in when joining the CCC campus community, and I've been so happy to see all three of our VP's jumping in with both feet. It's been years since we even had one permanent VP. What a difference!
We have one more major transition ahead of us as a campus, which is saying goodbye and thank you to Dr Bell for his incredible service to our campus. We are in a much better place than when he arrived, and I believe his work and skill has helped us get here, in part by letting the strength and commitment we've always had here at CCC lead the way. We have a good sense of who we are and what we want to be for our students and the community. Now it's time to welcome Dr. Robinson-Cooper! I am looking forward to a wonderful future at CCC. We are starting in a strong position, and I cannot wait to see where we go from here!
Thank you everyone for supporting (and tolerating!) me as I've been the ASC President. I am grateful for the experience.