The End of the Semester, the Start of an Academic Senate Blog
Participatory Governance Committee Update: 21 committees met regularly this semester, with 53 faculty actively participating and providing insight to campus decisions. Regular updates from many committees are provided to the Academic Senate Council and posted in the minutes. Thank you to all faculty who've been providing our voice on these committees! For a complete graphic of all committees, faculty members serving, and brief description of each committee, see this link.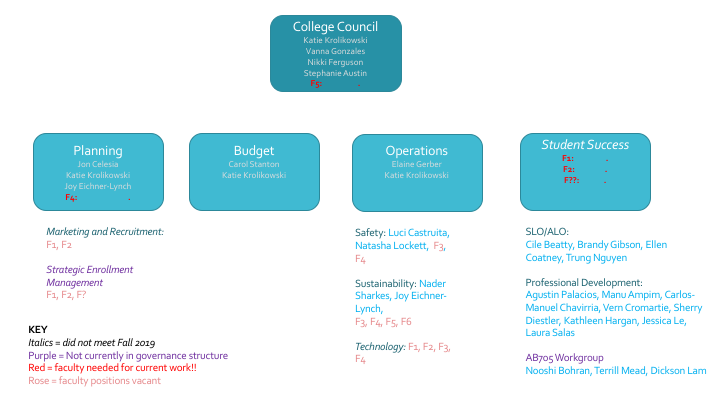 Hiring: I am so glad to have worked with Brandy Gibson and Mayra Padilla to get as much CCC input into our Interim President hiring as possible! I am grateful to the Academic Senate Council members and all of the faculty who took time to contribute to conversations in August/September. The wisdom expressed by our faculty colleagues was truly guiding light in efforts to have CCC's voice well-represented in this decision. This spot on campus is filled!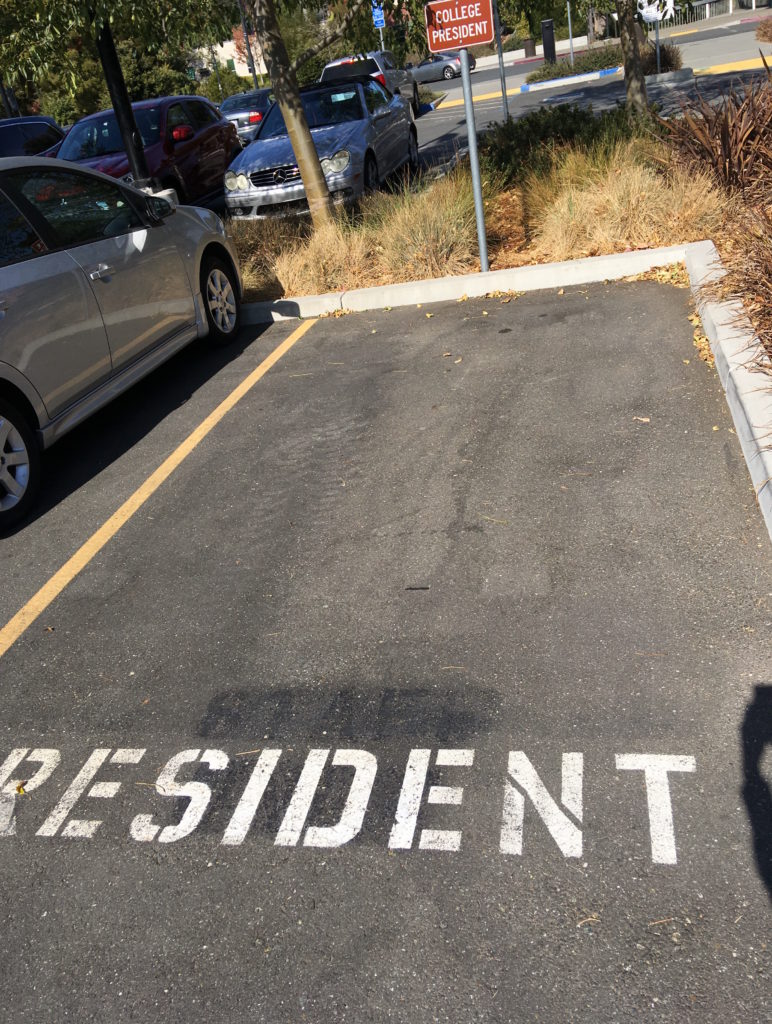 More hiring: The district is now focused on hiring a new chancellor, using the search firm "Collaborative Brain Trust", with Dr. Brice Harris (former Statewide Chancellor of Community Colleges) as the lead consultant. A campus event is being held December 3 at 8:30AM in the Knox center to get input from CCC on this process.
Equity information: I'd like to share interesting equity-related data each time I post a blog. I recently attended the ASCCC Fall plenary, and this graph was presented at both the general session and a breakout session I attended. Note that student diversity at California Community Colleges vasty surpasses faculty diversity.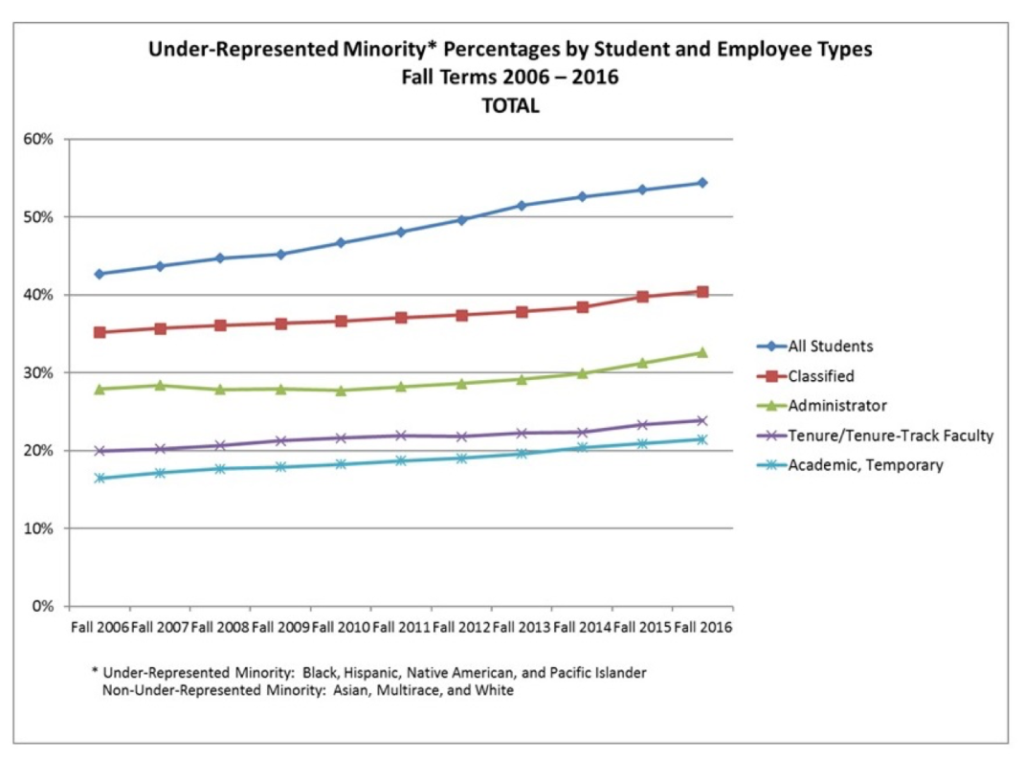 This related figure was presented only at the breakout. It shows NEW ARRIVALS on campuses across California, rather than the total population of each group . The student trend is similar, to the graphic above as students tend to stay on campuses only a few years. Notice how the full-time faculty trend differs, though.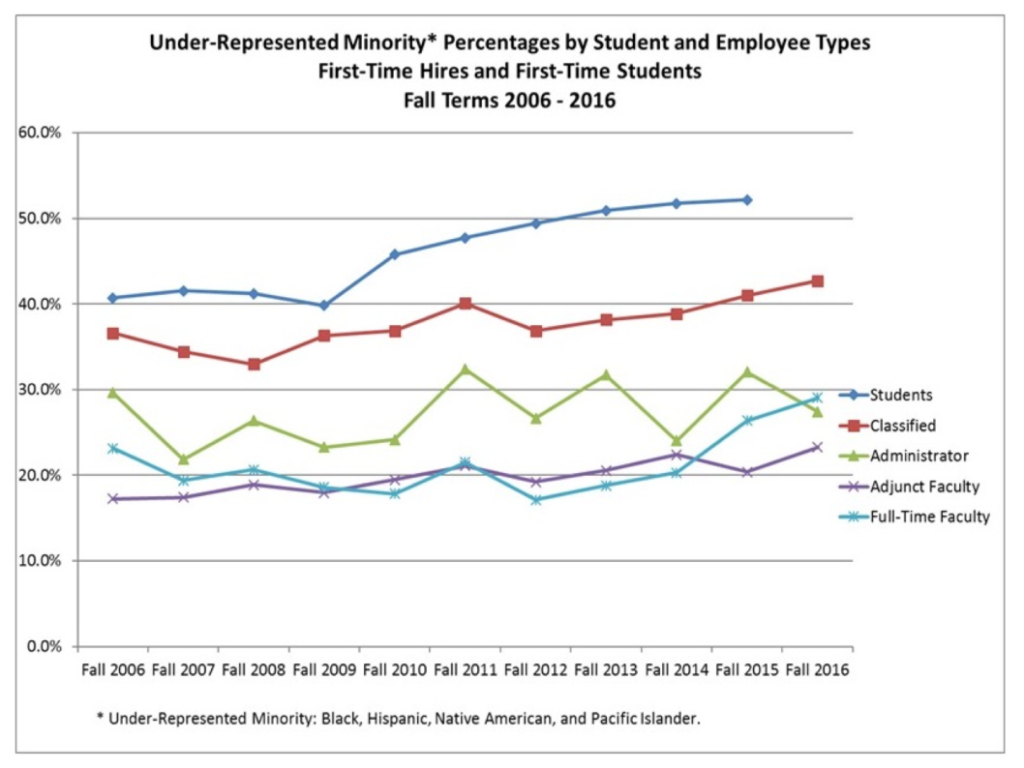 Upcoming Interest:
Strategic planning process: A campus-wide event will be happening on December 11 from 2:30-4pm to gather information about where CCC is now. The Academic Senate Council will be hosting a faculty event on December 16 from 2:30-4 to give input on the visioning work that will be guiding the formation of our actual strategic plan in the spring. Your voice and perspective are important! Please consider attending.
Curriculum: Keep an eye out for Curriculum Committee's spring FLEX. They are having a speaker from the state academic senate, and it's a great chance to learn about how important and exciting curriculum can be!